E2S Warning Signals provide the critical final link for the Philippines' tsunami warning system Released 27 April 2015

The 26 December 2004 Indian Ocean Tsunami killed 230,000 people in 14 countries, and swamped coastal communities with waves up to 30 metres high. Following this tragic event, the UN set up the Indian Ocean Tsunami Warning System, and although not directly affected by the 2004 disaster, the Philippines have set up a similar early warning system. Areas on the west coast of the islands, which face the Manila trench located between The Philippines and Vietnam, are at particular risk and the project is being progressively rolled out from the densely populated coastal towns and cities to the rest of the region.

The system includes detectors, a GSM data communication system, data visualisation, interpretation, local tsunami emergency decision tools and, the final public-facing element of the system, widely distributed local tsunami warning stations.

The solar powered local tsunami warning station rely on E2S Warning Signals' A121AX Appello 126 dB(A) output user-recordable alarm horns, which have a 300 metre effective range, to generate the audible alarms to alert the population to an impending emergency. Three units per station, spaced at 120° intervals, ensure all-round audibility, and the units generate warning alert tones followed by recorded messages to ensure that the warning is unambiguous. In the event of an emergency, people living in the affected coastal areas are given sufficient time to flee their homes and follow designated evacuation paths leading to higher grounds.

The A121AX can store, in non-volatile permanent memory, up to 2 minutes (4 x 30 seconds) of user messages, with independent volume controls for the 45 embedded alarm tones and the recorded messages. It operates from 24 VDC and is environmentally sealed to NEMA 4/4X/3R/13 and IP66 standards.

• To view all E2S press information, go to www.parkfield.co.uk/e2s

E2S Warning Signals takes part in its first NFPA show in Chicago 22 – 25 June 2015

Released 05 May 2015
On Booth 1162 at the NFPA Conference & Expo in Chicago, 22 – 25 June, E2S Warning Signals, the world's largest independent manufacturer of audible and visual warning devices, will be showcasing its comprehensive product portfolio. On display will be a selection of devices suitable for use in Class I & II Division 1 and 2 areas amongst which there will be the new D1x series, available as combined horn and strobe units, horn sounders or PA loudspeakers.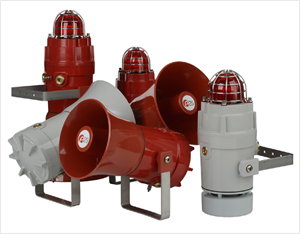 The D1x family at NFPA 2015

Headquartered in London, UK, E2S has been manufacturing warning signalling devices for over 20 years combining the latest technology with leading industrial design and build quality. E2S collaborates with system integrators and application engineers to develop custom signalling solutions with substantial benefits such as ease of interface, quick installation and specific performance criteria. Through its Houston based distribution hub and a worldwide network of representatives E2S supplies over 350 product variants covering hazardous locations, marine and industrial applications; all available on fast lead times and backed by a 5 year guarantee.

Personnel from both the E2S Houston and London facility will be on stand-by at the booth to discuss your signalling requirements.